Tu fais quoi avec tes minifigs ?
Tu fais quoi avec tes minifigs ?
Date: May 2022
BrickPirate organized a challenge named "Tu fais quoi avec tes minifigs ?" (meaning "What do you do with your minifigs?"), where particpants had to build 8x8 vignettes using collectible series minifigs. See this thread for rules (in French) and participating entries.
Le bouillon maléfique (The evil broth)
Come taste this good broth, we garantee you it is not poison.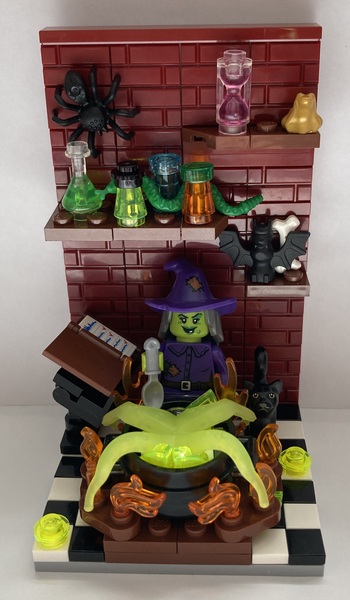 With the witch from series 14.
This one was done by my girlfriend, who had the idea while watching the minifigs allowed for the challenge. I only helped her to find the parts in my stock.
Crash Test
He works for your safety.
With the dummy from series 1.
I had that minifig since long time, so the idea of this scene was in my head since years, this was the opportunity to make it. The difficulty was to fit a car + a wall in a length of 8 studs.
Un peintre un peu trop zélé (A painter a little too zealous)
- Repaint the living room in blue
- Consider it done.
With the painter from series 10.
I could not chose the color of the paint, this was imposed on me by the stains on the minifig clothes. Medium azure is not the easiest color for parts selection.
LEGO® is a trademark of The LEGO Company which is in no way linked, managing, owning nor sponsoring this website.