Knight Train
Knight Train
Date: September 2016
This train was made for a challenge organized on the Lego thread of the hardware.fr forum. For some time I had the idea of making a purple train for re-using the large amount of purple train windows from the Knight Bus sets, this was a good opportunity.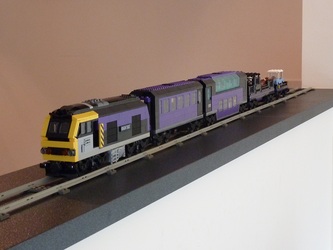 As I kept the Harry Potter theme, I picked an English train engine, so this one is based on a Brush BR60 (British Rail Class 60).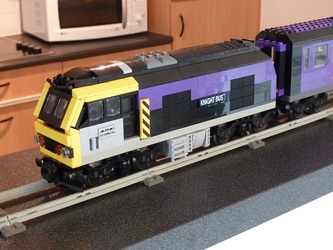 On Wikipedia you'll find a few pictures; the 60024 et 60054 were used as basis for the front.
The first passenger car, quite basic, is derived from the 4558 Metroliner set. The second one is just a re-color of the 4547 Club Car set.
Using the same beds style as the original set, but with pillows from the Knight Bus :D
Then there is a fret wagon, including the Ford Anglia from the movie:
LEGO® is a trademark of The LEGO Company which is in no way linked, managing, owning nor sponsoring this website.