Friends-sponsored rally car
Friends-sponsored rally car
Date: March 2016
This vehicle was built for a vehicle challenge on the Lego thread of the hardware.fr forum.
It is not a Friends vehicle, but rather a Lego City race vehicle sponsored by Lego Friends, hence the color.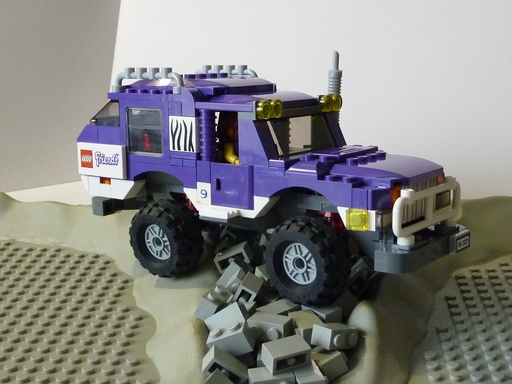 Building with purple is not always easy due to the limited amount of parts (back in 2016).
The steering wheel is on the right because the door only exists in the "right" version (coming from the Harry Potter Knight Bus 4755). So on the left I simply used bricks and placed an exhaust.
It also uses parts from the other Knight Bus, 4866. Some may notice that one of the arches is different than the tree others: that's because I didn't notice that difference when building the car, though that I had enough of the new-style arches to use only these :D
The 1x1 bricks with "9" number are from early 60s (coming from my father's Lego parts).
The part used for the trunk is an airplane roof from the 80s-90s (one of the parts that tend to yellow a lot).
The spring wheels holders and the "safari" tiles also are from that era. The springs were used in the same set as the tiles.
Driving cab, trunk and chassis:
The spring wheels holders are made for small wheels, so I had to find a way to attach bigger ones. In a recent set (I don't remember which one) I noticed that "plate with clip" are attached to a basic 2x2 wheels holder, so I had the idea to make the following assembly: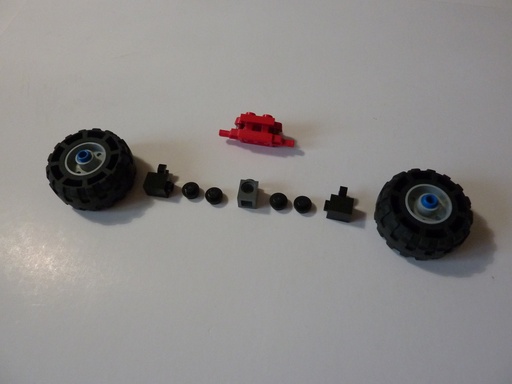 The "brick with clip" seems stronger than "plate with clip" for such assembly (and stronger than expected). Not enough for a child playing, but an AFOL can play with it on his desk ;)
A short video on Vine.
Top Gear style: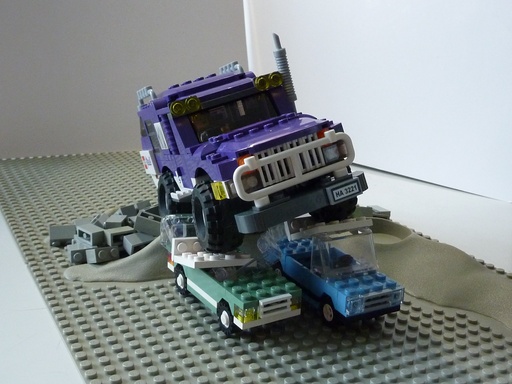 For reference: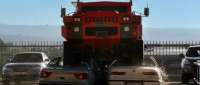 while testing the Paramount Marauder
LEGO® is a trademark of The LEGO Company which is in no way linked, managing, owning nor sponsoring this website.