Cinema scene: Back to the Future
Cinema scene: Back to the Future
Date: May 2017
For a cinema scene challange of the BrickPirate forum, I recreated a (minor) scene of Back to the Future. See this thread for rules (in French) and participating entries.
Since some time I have been stocking a few minifigs related to sport and fitness, so I thought I could make a MOC of a fitness center, and I also had in mind the scene of Back to the Future where Marty passes in front of such place, saying hi to the girls while riding behind a Jeep :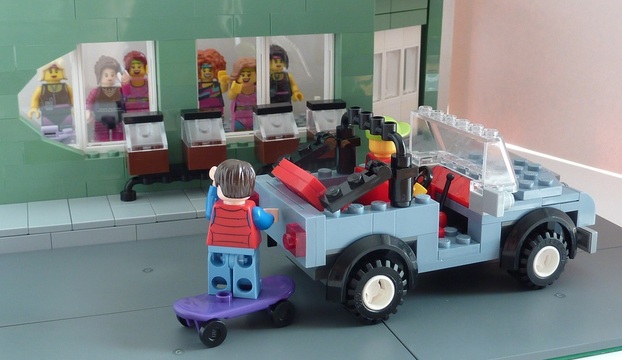 For reference, here are captures from the film:
An anecdote by the way, the Jeep CJ-7 from this scene is driven by the director of the movie, Robert Zemeckis :)
For reference: www.imcdb.org/vehicle_3708-Jeep-CJ-7-1981.html
Here is a view of the front, not useful for this MOC but I did it anyway: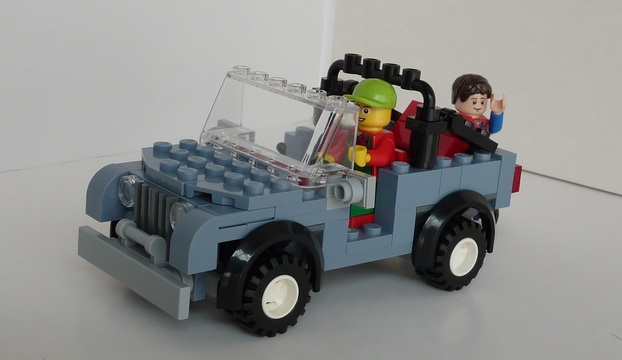 In the movie the front is not visible, so I took another picture randomly as reference: www.imcdb.org/vehicle_561341-Jeep-CJ-7.html
Choosing sand blue for the Jeep seemed good to fit the one from the movie, but it is quite hard to build with a color for which there are not many parts (back then, and in my inventory, in that color I had mostly 2x4 plates and 1xN bricks).
LEGO® is a trademark of The LEGO Company which is in no way linked, managing, owning nor sponsoring this website.